Loads of new features for both Students and Administrators
Equator IT has recently deployed a number of new features in the Student Web Portal. If you are a hosted customer, you have automatically received these features as a part of your annual subscription. They're live right now, so please go ahead and check them out!

The following will provide you with an overview, including screenshots, of the biggest changes that we are delivering with this release. 
For Administrators
Email notification of updates
Ask and you shall receive! One of the most requested features for the Student Portal has been the capability to receive email notifications when students update their details. This can now be activated via the Student Portal Administration Site: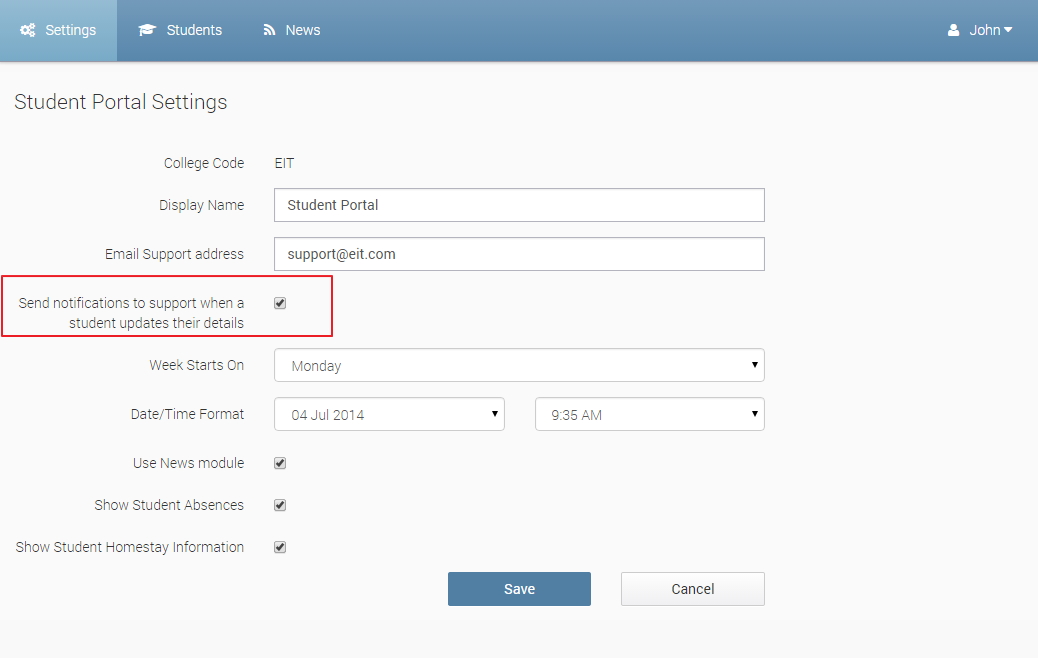 When this setting is activated, the Student Portal will email the registered support address each time any student updates their details. Below is an example of what you will be sent when this happens:
This allows you to review the changes to ensure no mistakes have been made, as well as synchronise the student data with any other external systems that you may have.
Basic student management
You can now perform basic student management tasks from right within the Student Portal Administration site. Once you're logged in as an administrator, clicking on "Students" in the navigation bar will display a list of current and future students, as well as a tickbox showing you if they have registered for access on the Student Portal.
You can use the search box to filter students by student number, first name, or last name.
If you click on an individual student, their details and enrolment(s) will be displayed. You can edit the student's email address & phone number, register them for Student Portal access and assign them a new password (created by you or randomly generated). You also have the option to email the student their new password once registration is complete. 
You can also use this facility to reset and email passwords to students who have already registered for Student Portal access.
Efficient support
When you receive a support request email from the Student Portal, that email will now contain a link to the Student Portal Administration site, making it faster and easier to handle Student Portal Support Requests.
When you log in to the Student Portal Administration site, you'll see the phone number and any email addresses that the student tried to use to gain access to the Student Portal. Clicking on an email address or phone number copies it to the student details and it then becomes associated with that account. This feature allows you to seamlessly update the student's record without any re-keying of data.
News
You can now preview news articles, seeing them exactly how they will appear to students.
For Students
Absences
Students can now view absences that have been recorded against them by clicking "Absences" under the "Classing" navigation item.
This feature can be switched off via the Settings page in the Student Portal Administration site.
Future timetables
Students can now also use the navigation icons on the "Class Timetables" page to see their timetable for the coming weeks.
Homestay Details
Students with a current or future homestay arrangement can now access the details of their homestay accommodation from right within the Student Portal.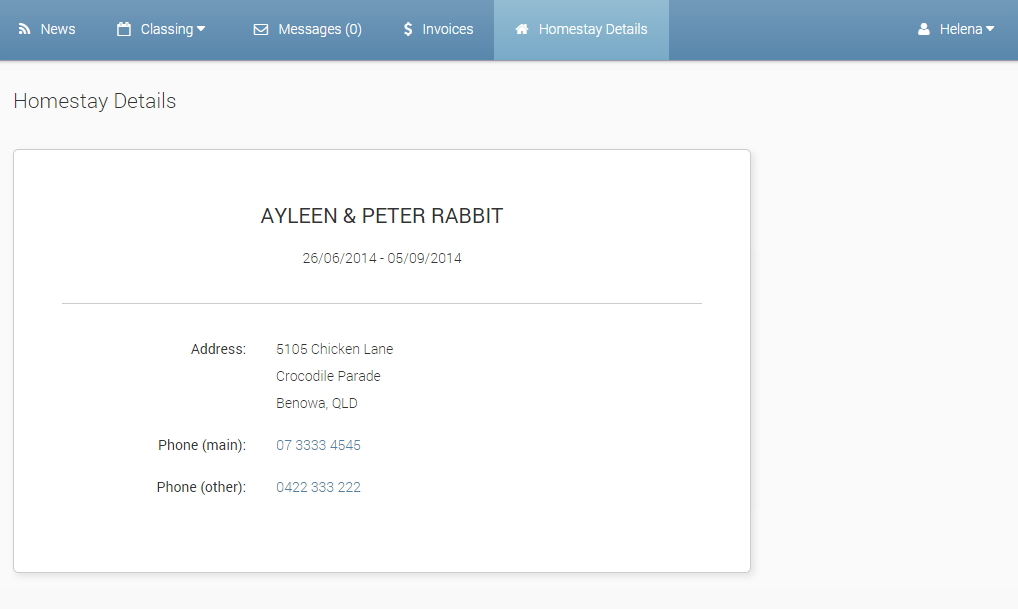 The menu option is not visible for students who do not have a current or future homestay arrangement.
This feature can also be turned off via the Settings page in the Student Portal Administration site.
All of these new features are already live, so you can sign in to the Student Portal Administration Site and have a look at them right now! If you need to URL for your Student Portal Administration Site please send us an email.

Your login details for the Student Portal are the same as the details you use to sign in to eBECAS.
As always, please don't hesitate to get in touch with us if you're having any trouble with the Student Portal – we're here to help.
-Equator IT